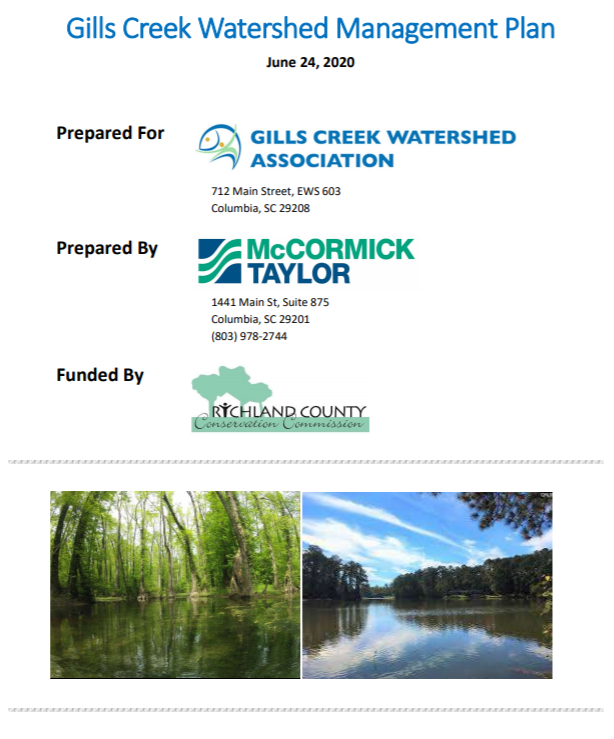 The Gills Creek Watershed Management Plan 2020 Update is complete!
The 2009 Gills Creek Watershed Management Plan has been updated in order to reflect changes in the watershed's condition over the last ten years and to provide a more explicit listing of projects within the Gills Creek Watershed, along with predicted costs and expected results.
GCWA is grateful to the Richland County Conservation Commission for funding to complete this update. We appreciate McCormick Taylor's efforts to accomplish the work within our budget, and we are grateful to our Technical Committee members and to the many residents and stakeholders in the watershed who took the time to provide information to guide the Plan update.
Public input allowed pollutant "hotspots" within the watershed to be identified, helping to guide many of the specific projects within this Plan. The Plan also addresses EPA's nine required elements of watershed-based plans, including information such as: pollutant causes, sources, and amounts; current and predicted future development conditions; flooding concerns; best management practices; community engagement; and a schedule for implementing the plan, as well as measures of its success.
This updated Plan will provide myriad options not only for GCWA, but for local governments and others in the watershed. It is meant to be a living document, adjusted as needed to reflect watershed conditions and accommodate new threats, opportunities, and community concerns. We welcome any feedback regarding this Plan update, which can be submitted here: https://arcg.is/PujOn.
To view the Gills Creek Watershed Management Plan - 2020 Update, visit our webpage: https://www.gillscreekwatershed.org/what-we-do/key-documents.