Skip to main content
Working to Restore, Educate, and Advocate for Gills Creek Watershed
Annual Members Meeting November 17, 2022
Welcome New Board Members!

GCWA is very excited to announce the addition of Andrew Melanson and Rob Robertson to the Board of Directors.  We're also delighted that Gwen Geidel, our Vice President and Tom Kohlsaat, Chair of the Technical Committee, were elected to serve a second term.  We look forward to working with each of them and know that they will be a great addition to the team.  For more about our newest members, read on:
Andrew Melanson, MBA  
Andrew Melanson is an energy analyst with Siemens Industries, and is an Accredited Commercial Energy Manager (SC designation) and a Certified Energy Manager (national designation.)  He has lived and worked in Columbia for the past 20 years, and three years ago moved to a home above the Gill's Creek flood plain near the Timberlane properties. He served on the steering committee for the Timberlane project and also is a member of the technical committee.
Rob Robertson 
Rob Robertson has served on the Board in the past, and created the Wine for Water fundraiser.  He has continued to provide inspiration, energy—and wine!—for the event ever since.  He has lived in the Gills Creek Watershed most of his life.  Currently, Rob and his family live very close to the Creek in King's Grant.  He is the SC State Manager for Brittany Sales Company, a beverage brokerage based in Miami, FL.  He especially enjoys time in the watershed while kayaking and fishing.
Many Thanks to retiring Board Member Janet Huerer, a mainstay of our Wine for Water team. We'll miss you!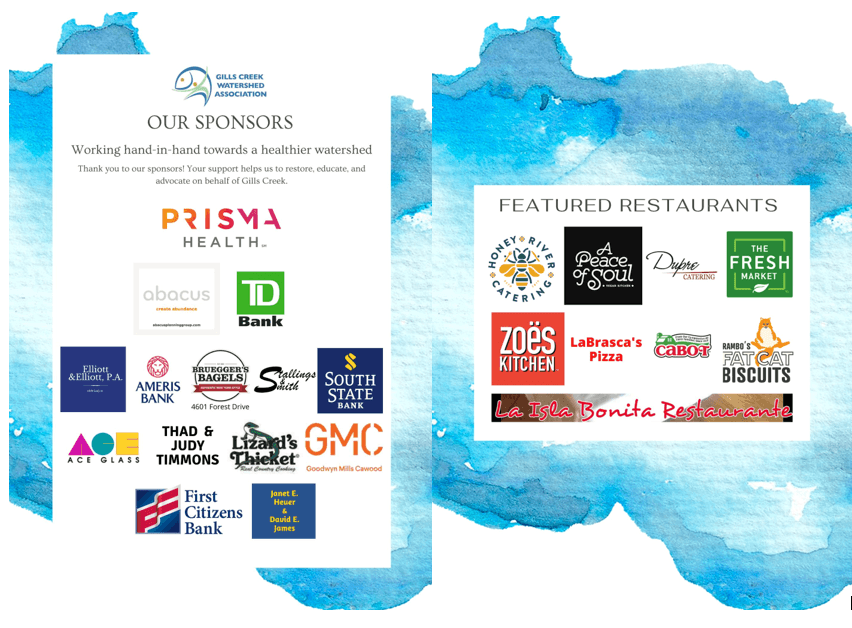 We are SO thankful to all of our sponsors, restaurants, silent auction donors, volunteers, and guests who came out to our Wine for Water Annual Fundraiser, helping us make it a HUGE success and raising over $23,000 for our efforts to protect and restore the Gills Creek Watershed! While our event is over, our efforts, and our supporters are not! Please be sure to continue to patron our supporters to show your support of their support!
Article in the Post and Courier featuring GCWA, Richland County, and the City of Columbia
Article by The State about GCWA's 319 grant from SCDHEC, with matching funds provided by the City of Columbia, and the great support of Meyers Brothers Properties.