Skip to main content
Working to Restore, Educate, and Advocate for Gills Creek Watershed
Upcoming Events You Won't Want to Miss:
Volunteers are needed to drive a designated route, with a partner, three times on Saturday, August 6, 2022. Each drive should take 45 minutes to an hour, then that's it! The parties in charge will take the data recorded and create a map showing where the heat islands exist in our community so that we can begin working on getting rid of them. There is a $100.00 stipend for the participants.

This project involves mapping 160 square miles of urban and urbanizing Columbia and Richland County in a single day – and we can't do it without you.

The survey is planned for Saturday, August 6th! We're still working on the details – please let us know you're interested in helping by signing up below, and we'll be in touch!

Volunteers will use specially designed sensors mounted on their own cars , and will drive pre-planned routes three times on the appointed day — morning, afternoon, and evening — recording temperature, humidity, and their precise location every second.
Our programs are designed to restore Gills Creek, educate the surrounding community, and advocate for its continued protection.
Take a look.

Improve your community by joining our cause. You'd be surprised at what a huge difference a little bit of your time can make.
Read more.
News & Notes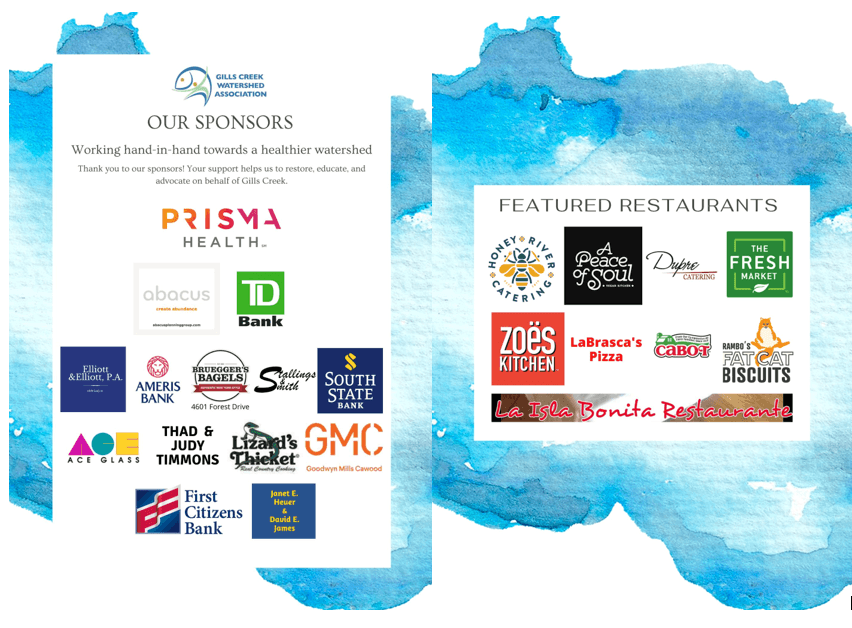 We are SO thankful to all of our sponsors, restaurants, silent auction donors, volunteers, and guests who came out to our Wine for Water Annual Fundraiser, helping us make it a HUGE success and raising over $23,000 for our efforts to protect and restore the Gills Creek Watershed! While our event is over, our efforts, and our supporters are not! Please be sure to continue to patron our supporters to show your support of their support!
Article in the Post and Courier featuring GCWA, Richland County, and the City of Columbia
Article by The State about GCWA's 319 grant from SCDHEC, with matching funds provided by the City of Columbia, and the great support of Meyers Brothers Properties.