Skip to main content
Working to Restore, Educate, and Advocate for Gills Creek Watershed
Annual Members Meeting November 17, 2022
Annual Members' Meeting - 6:00 PM November 17, 2022

We'll gather at St. Martin's-In-the-Fields Episcopal Church, 5220 Clemson Ave.  at  6:00 PM for a brief "happy half-hour" with wine, beer, and heavy hors d'oeuvres.  Please come to the Commons building, accessed via the parking lot connecting Clemson and Winthrop Streets. Our annual meeting will include a quick review of the year's highlights, election of new Board members, farewell to "retiring" Board members, and presentation of this year's Watershed Wonder Award.  We hope you will join us for our first in-person annual meeting since 2020, but if you can't, and wish to cast a vote for new or incumbent board members, please download our 2022 Board Slate and instructions and follow instructions for voting electronically.  This year's annual report is available here: 2022 Annual Report.
2022 Annual Meeting Invitation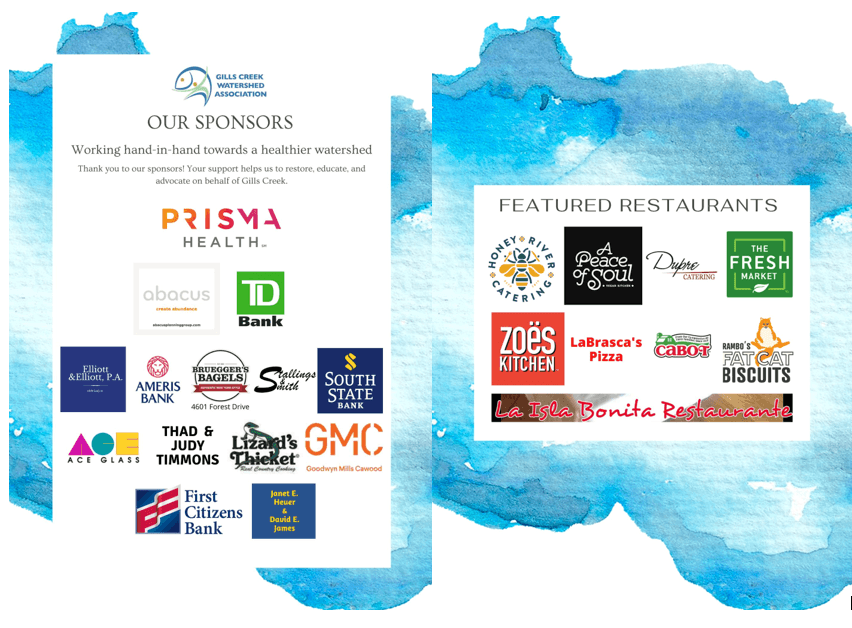 We are SO thankful to all of our sponsors, restaurants, silent auction donors, volunteers, and guests who came out to our Wine for Water Annual Fundraiser, helping us make it a HUGE success and raising over $23,000 for our efforts to protect and restore the Gills Creek Watershed! While our event is over, our efforts, and our supporters are not! Please be sure to continue to patron our supporters to show your support of their support!
Article in the Post and Courier featuring GCWA, Richland County, and the City of Columbia
Article by The State about GCWA's 319 grant from SCDHEC, with matching funds provided by the City of Columbia, and the great support of Meyers Brothers Properties.