Restore and Protect
Gills Creek is significantly impaired, yet provides many recreational opportunities and hosts valuable wildlife habitat.  Our current restoration efforts are focused on controlling stormwater and pollution in order to enhance recreational opportunities and preserve habitat.  Monitoring the condition of the creek is essential to this effort.  To become a volunteer stream monitor, see our Volunteer page.
Examples of current and recent projects include:
Crowson Road Stream and Riparian Buffer Restoration: The GCWA received an EPA/DHEC 319 Grant for Stream and Riparian Buffer Restoration for the creek along Crowson Road.  Partners in the effort include the City of Columbia, which has provided significant match funding, and Richland County, which has contributed a Conservation Commission grant and arranged for federal Community Development Block Grant funding to contribute to the project. The construction work was completed in the summer of 2022 and the banks will be planted with native plantings in the fall. 
Jackson Creek Restoration Site Project: GCWA has been assisting Richland County in the planning of a park along Jackson Creek that will protect and improve water quality. The Jackson Creek Site Restoration Project aims to transform a vacant site at 2618 Decker Blvd. into a community asset, providing greenspace and enhancing the area ecologically and aesthetically. Along with outdoor space for community gatherings, the site would have educational signage and access points to Jackson Creek. GCWA is pleased there will be a native plant garden and open space, with a possible kayak launch to connect the community to Gills Creek and rain gardens to help treat stormwater runoff before it enters the creek. GCWA is working with the County to produce the informational kiosk to be installed at this site, thanks to a grant from the Richland County Conservation Commission.
Urban Oasis: GCWA is working on a community-based design process in partnership with Richland County, thanks to a Connected Communities grant from Central Carolina Community Foundation and GCWA supporters like you during Midlands Gives 2021, for renaturalization and trail installation on FEMA buyout properties along Timberlane Drive. The final design-development plan was completed with the feedback of community and GCWA members thanks to MKSK. You can view it below!
Watershed Planning: Thanks to a grant from Richland County Conservation Commission, the 2020 update of the Gills Creek Watershed Management Plan was completed in June 2020 in coordination with McCormick Taylor consultants, the GCWA Technical Committee, and public stakeholders. This updated Plan will serve as a guide for GCWA and other entities to restore the Gills Creek Watershed.  The watershed management plan will continue to be updated and refined on an on-going basis, with appropriate public input.  Previously, in 2009 GCWA worked closely with Richland County and many other stakeholders to prepare an initial comprehensive watershed management plan to guide the Association's actions as we worked to restore the watershed.  With assistance from the Richland County Conservation Commission, a more targeted plan was also developed for the Middle Watershed, which focuses on the Fort Jackson Boulevard to Devine St. area of the Creek.
Decker Boulevard Litter Reduction: The Gills Creek Watershed Association received two grants from Palmetto Pride to help reduce litter in the Watershed. Decker Boulevard was identified as a significant litter hot spot.  With Richland County and The COMET, GCWA reduced the litter problem in the Jackson Creek/Cary Lake area by placing trash cans at key locations near bus stops along Decker Boulevard. Signs in English and Spanish were posted next to the cans to encourage use.
Adopt-A-Highway, the Great American Cleanup, and Other Cleanup Efforts: GCWA conducts a quarterly clean up of a stretch of South Beltline Boulevard which runs parallel to the creek.  In addition, GCWA hosts and organizes a number of clean ups in various areas of the creek for school, work, and social groups. 
Owens Field Trail Rehabilitation and Section 319 Source Reduction Project: GCWA coordinated planning and funding for an EPA/DHEC 319 Source Reduction Project at Owens Field.  Two bioretention cells were constructed to capture and infiltrate stormwater before it enters Devil's Ditch and Gills Creek. Several field visits were held to share lessons learned with local practitioners. This project was part of a larger effort to incorporate stormwater Best Management Practices into trails by the Richland County Conservation Commission, in conjunction with the Richland County Stormwater Division. The project ribbon cutting was held on July 15, 2017.
Devil's Ditch Project: This project is the result of a coordinated effort among Richland County Stormwater Management, City of Columbia and GCWA which began in 2010. The project is a maintenance project for the section of the Devils Ditch located between Live Oak Street and South Beltline Boulevard.
Forest Acres Greenspace Planning: GCWA was involved with the development of a preliminary concept plan for a greenspace along Gills Creek in Forest Acres. This property is located in an area that is very prone to flooding in rain events and as a result it needs to be retained as a natural buffer for stormwater in the area. GCWA became involved with the City of Forest Acres in the initial planning to turn this property into a functional greenspace that not only enhances the beauty of the surrounding area but also aids in the proper natural buffering of stormwater from the surrounding parking areas. See the preliminary concept plan developed and submitted to the City of Forest Acres by GCWA below.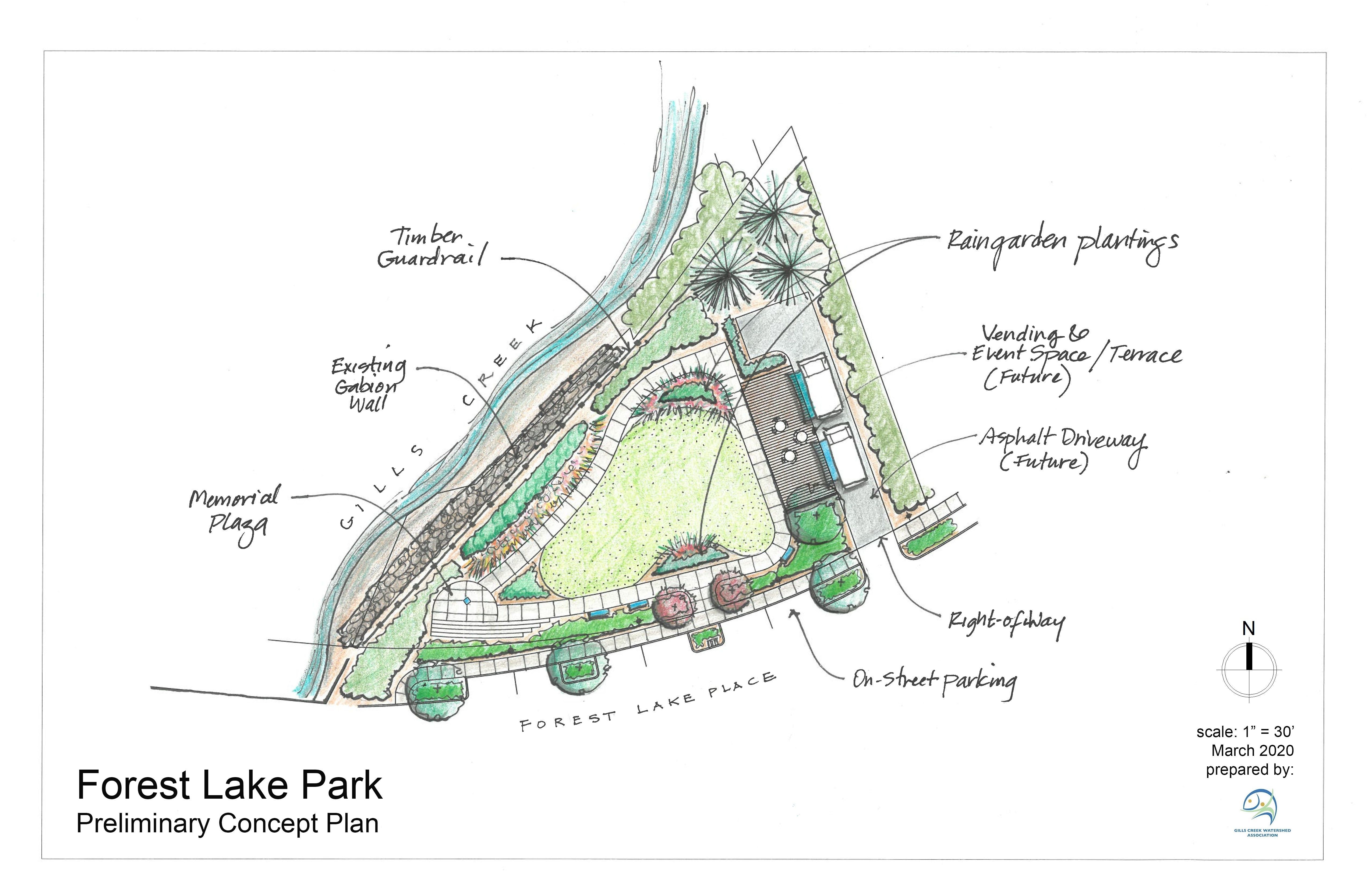 Older Projects
Projects which are complete, or have been shelved for one reason or another, are listed in the document below. If you need additional information, please contact us at carmony.adler@gillscreekwatershed.org.